Achacachi . ¿Khaukhankisa? ¿Where is located? ¿Donde está ubicado?
---
ALTURA

3.854   metros sobre el nivel del mar

12.647 feet above mean sea level

distancia DE

93 Km de La Paz

199 Km de Puno

540 Km de Cuzco

UBICACIÓN

Latitud -16.0500 (16° 3' S)

Longitud -68.6833 (68° 41' W)

Zona horaria

(est) UTC – 4

trASPORTE

Take minibus from the corner Bustillos Street and Bautista Av. near Cementerio General, in La Paz city. Ticket is 6 Bs. Return journey takes four hours moreless.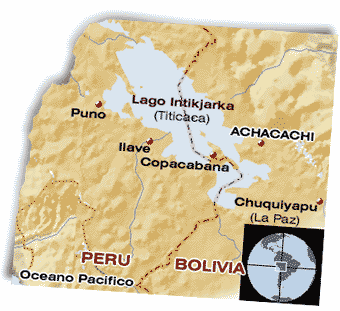 Copyright © 2006, Achacachi. Sitio de la ciudad más alta del mundo. Patpatankiri markana kont'awipa. All rights reserved. Todos los derechos reservados. Jarkt'atawa.